McMenamins Grand Lodge - Real Haunt in Forest Grove OR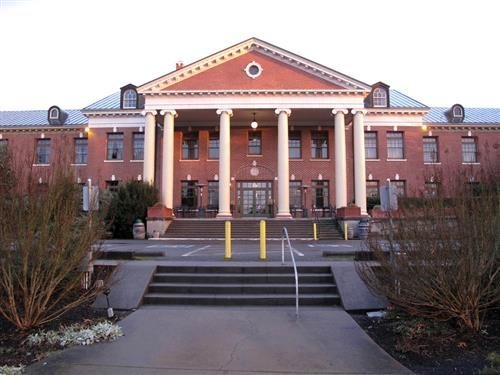 3505 Pacific Ave.
Forest Grove, OR
(503) 992-9533
Details
Average Review

Listing Categories

Open To Public

Yes - Open To Public
The ghost that haunts this location is a white-haired woman wearing a print dress and slippers. Her apparition has been seen and a portrait of it is even on prominent display inside the lodge. One report says that the apparition looks a lot like Anna, a woman who once lived in the building a long time ago who died right before her 100th birthday.
Mouse over photos to see photo credits.
Room 007 in the basement

I heard weird noises, my comforter was tugged on and some played with my feet under the covers…. This was at the Grand Lodge

Posted 10/30/23

Room 101

I recently stayed at the Grand Lodge for a wedding that was taking place there on the grounds and at the Children's Cottage. I stayed two nights the first weekend of October, as the wedding was on Saturday and we live in Seattle. I just turned 30 this year and had never experienced any paranormal activity before, so I didn't seriously consider what I might experience at a "haunted" hotel. We were assigned to room 101 on the first floor near the lobby, just past the giant doors that can section off the hallway. Room 101 is called Ida's room, which has a painting of an orphan girl named Ida on the wall and her story written on the adjacent walls. Both nights I woke up around 3 am, not sure what woke me up and proceeded to hear noises in the hall and in the room above me from 3:30 am to 4:30 am. Apparently, this is the "witching hour"? The first noise was a rapid shaking of a round metal doorknob in the hallway (I confirmed there was one when I got up later that morning). There is a non-guest door between the giant doors and room 101 that has an old round metal doorknob, I'm guessing this is the one that I heard. Then, I heard heavy-heeled footsteps coming from the room above us, room 201? It sounded like they were going in circles around the room. Next, I heard several doors slamming down the hall, but no voices or footsteps. Finally, I heard several sequential card reader beeps (all the rooms have card readers) for about a minute. My body hairs were standing up the whole time and I was terrified something would appear in our room. 10/10 would not stay there again.

Posted 10/17/23

Young Boy

This is something I've only told a few people but after getting ridiculed I decided to just keep this experience to myself. I was able to tell one person special to me & she believed me which felt like a ton of bricks were lifted off my chest finally being able to share this event with someone. So around 2015 I stayed the night at Grand Lodge McMenamins hotel. It was around 2:20am-3am & I was using a community bathroom in the hallway my room was on. I can't remember the room name/number but it was on the same floor as a giant community bathroom & a small one person bathroom in the hallway to my room. I stopped to use the restroom & the friend I was with sat directly outside the bathroom door on chair that was directly outside of the bathroom & facing the door so it would be impossible for anyone to go in the bathroom with me without her seeing them. Plus I always lock the bathroom door. Anyway I'm literally looking straight forward at the wall while I'm peeing & I suddenly feel that strange energetic sensation like when your somewhere feeling watched ext… so I instantly look behind me while I'm peeing & I see a young boy maybe 6-8 years old wearing what looked like a poor school boy outfit from early 1900's is only way I can describe it & it was a faded green color jacket with 4 big buttons on the front of the shirt. Instantly my mind is calculating all of these weird anomaly's of first off a boy standing behind me in a one person bathroom with locked door & the outfit he was wearing which was literally looking like early 1900's poor school clothes typa style. Suddenly I was overcome feeling completely comfortable, calm & fine with the situation & I finish peeing & I turn around literally face to face with this boy that didn't look like a ghost at all, he was not see through ext… Just looked like a real boy standing there. I looked directly at his face & I said are you here alone? I said it's like 3am where are your parents & the boys calmly replied to me by saying I'm looking for my father. He wasn't looking at my face he was just staring straight ahead past me but he absolutely listened to my question about where are his parents & the boy said I'm looking for my Father he's sick, I said I can help you just let me wash my hands real quick & the boy replied again I'm looking for my father he's sick in his head. I said ok hang on a sec let me wash my hands & I'll take care of everything. I literally turned around to was my hands & I looked back behind me soon as the water hit my hands & the boy was gone. I unlocked the bathroom door & I said where did the lil boy go? The girl I was with was sitting in a chair directly outside the bathroom facing the bathroom door. She said what are you talking about & she gave me a look like for me to stop being an idiot cause I'm a playful guy so she thought I was just being playful & it was 3am & she just said what are you talking about their is no little boy. I immediately realized that the friend I was with was 100% not gona be receptive to believing everything that I just experienced so I literally had to just bottle it up & I had noone to tell & it was driving me nutz cause i really needed to share it with someone. Their has only been one person that I felt comfortable & trusting enough to share this story with & it felt good telling her. This boy was 6-8 years old, white with short dark brown hair, blue eyes & was wearing that faded pale green poor Victorian era school outfit is the only way I can describe it. Anyway I doubt anyone will ever read this but I did just feel kinda nice to get that story out of me again. If this wasn't a real event i would never waste my time texting all of this crap but it's 100% real event that happened to me at Grand Lodge McMenamins hotel in Forest Grove, Oregon

Posted 6/22/23

3 out of 3 found this review helpful

Communal bathroom on third floor

Went there a few years ago with some friends and a "ghost hunter" to see if it was, in fact, haunted. We were in a small conference room on the 3rd floor. I went to the communal bathroom down the hall where shower stalls are, numerous toilets, and a couple sinks. I was completely alone in the bathroom, as I looked around and didn't see anybody inside, and nobody else came in while there. When I was washing my hands, I looked up into the mirror, and when I did so, both knobs of the water turned off, making a squeaky sound. I had to turn the knobs to get the water to turn back on. This was an older sink with separate knobs for hot and cold. Could've been the water pressure, but it still freaked me out. Went back to the conference room and my friends told me that my face was pale, like I had just seen a ghost.

Posted 11/29/21

2 out of 2 found this review helpful

My father used to work here.

Back in the 90's and early 2000's this lodge was an old folks home. My father was a dish washer for the dining area that the elderly would have their meals. I remember playing there when my mom would take us kids to visit him on his lunch. All the cute old ladies would give me candy and weird little homemade trinkets. Always got a really off vibe from the place. My father said on one specific day, he was preparing lunch when a jar of jelly flew off the counter and shattered all over the floor severel feet from where he was standing. He would also complain that it felt like someone was tugging on his pony tail (he had long hair) now, I'm not one to really belive in ghosts or apparitions...and to this day I still am somewhat of a skeptic. I can tell you that many people have passed away in that building. To this very day, I can still pick up on a weird and unsettling vibe. I can also confirm that there were no children that resided here as it was an old folks home, but I CAN tell you that there was a elderly man with dwarfism that lived there. Definitely a spooky place. Spooky back then and spooky now.

Posted 7/30/20

3 out of 4 found this review helpful

red shadow figure

my brother and I took a picture down in the basement infront of Bobs Bar and you can clearly see a translucent-red human figure standing behind me. weve went back multiple times throughout the years to take more pictures to see if anything would show up behind me again and nothing is ever there. Supposedly that floor use to be the morgue too

Posted 7/10/20

3 out of 4 found this review helpful

Live near there never knew it was haunted till

So like I live near there and we go all the time I never knew it was haunted and didn't really stay the night here we only went there for food and stuff but the one time we did stay there I got this feeling I was being watched and it wasn't just a feeling it was like there was somebody there it just set me off so much that I ended up googling if it was haunted and here I am

Posted 7/2/19

4 out of 6 found this review helpful

2 floor 3 floor and basement

I was been touch on the arm,legs and face then I was in the 3floor when i was looking at the paintings i heard a voice that sound like a young boy crying and said I'm lost and i saw a lady in red she said in a nice way follow me and i did we went into the 4floor then she disappear Then i was in the basement where I saw a shadow in a hallway then i was being touch on my back

Posted 5/31/19

2 out of 3 found this review helpful

Not sure really how to feel about it

I was just there the hole night I thought I see or smell her nothing but next day me and my boyfriend go to attic top first I sit in a chair open an old book and a 4 leaf clover comes out which creeped me out then I found this tiny secret door tiny space but it was so hot in there and all I can smell which was strong was lavander I brought the clover home ever since I feel like someone watching me like I'm never alone its a creep feeling

Posted 10/5/18

3 out of 6 found this review helpful

3rd floor experience

My fiancee and I stayed on the 3rd floor in room 304 which was called "just kids" and during the night when we were sleeping she was woken to what she described as a small dark figure coming at her and growling. We had no prior knowledge of any hauntings here until we did a little research on the property after our stay.

Posted 9/24/18

6 out of 7 found this review helpful

Felt choked by a child at night

Me and my family stayed in one of the new 3rd floor rooms, they all slept. I felt watched, attacked, and choked by an angry child all night. Will never spend the night again.

Posted 4/6/18

7 out of 8 found this review helpful

Caught an apparition in the basement

We were taking photos down the hallway of the basement looking towards the soaking pool hallway, and took 3 pictures in quick succession. We took the pictures because the hallway was EMPTY. The first 2 were just that, empty (besides the 2 ladies having a drink near us). When we looked closer at the third, however, there is an extremely clear photo of an unexplained person at the end of the hall. When we took this, I want to emphasize that it appeared completely empty. We cannot explain this. That evening, in our 3rd floor bedroom, my husband woke from a chilling violent dream (he is not prone to these) to feel as if he was being watched. He eventually fell back asleep, but he was terrified.

Posted 10/30/17

10 out of 11 found this review helpful
Share Your Experience or Comments - McMenamins Grand Lodge
Get More Info
Contact Phone #: (503) 992-9533
Real Haunt Listing Info
Visitors to this page: 4,710
Clicks to Website: 2
Last edit to this listing: 1/28/2016 (2864 days ago)

Disclaimer: Oregon Haunted Houses does not endorse or support trespassing to visit real haunts. Before you visit ANY local real haunt, make sure to acquire the appropriate permits and/or permissions, and be respectful of privately owned properties. Countless Haunt Hunters have been arrested, ticketed, and reprimanded by the authorities for trespassing. To avoid this, be sure to get in touch with the property owners before visiting a haunt, and respect their hours of operation, local regulations, and rules for visiting at all times. Happy haunting!
All information on this page was submitted to Oregon Haunted Houses and was believed to be accurate at the time it was posted. Please report any inaccuracies
here
.