Frightening Fun in Store this Season at Scare C.R.O.W Haunted Maze!
Home » Blog » Oregon Haunts: An In Depth Look
August 26, 2019 By Haunt News & Press Releases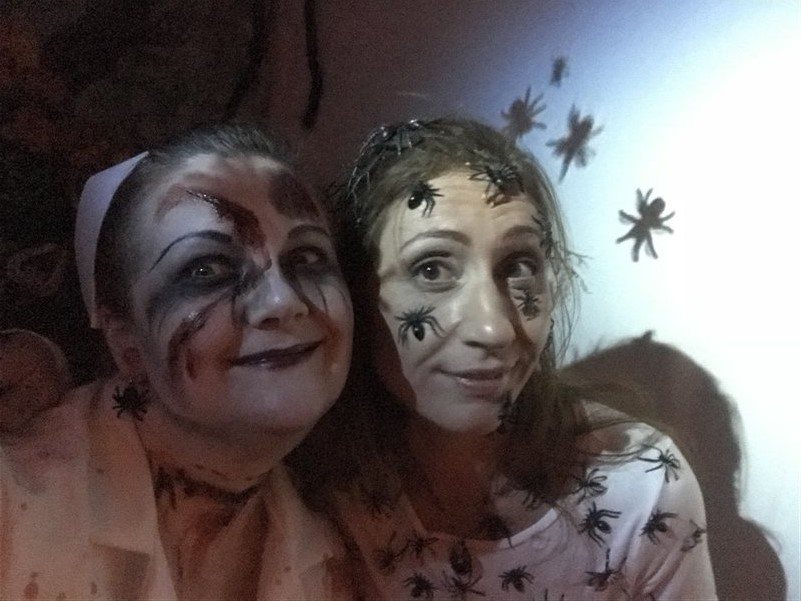 Scare-C.R.O.W. Maze Designer Melanie Heard (left) as an "Evil Nurse" with Good Friend Polly Fleming (right) as a "Spider Victim."
OregonHauntedHouses.com recently sat down with Melanie Heard of Scare C.R.O.W Haunted Maze, to discuss what's new at the haunted attraction for the 2019 Halloween Season!
What's new at Scare C.R.O.W Haunted Maze for 2019? Do you have any new rides, attractions, or special features that Haunt Seekers should know about?
Each year, our theme changes, to allow repeat visitors to be terrified once again. We have some cool visual components, sets, and props, and a couple of really great "jump scares" that are brand new. We'd tell you what they are, but then we'd have to kill you.
What are you most excited about for the 2019 Halloween Season?
The theme "Freak Show" opens up so many possibilities. We are looking forward to creating terrifying scenes, props, and characters that will make you question yourself and exit the maze, thinking "What did I just see?" It's the stuff nightmares are made of.
What differentiates Scare C.R.O.W Haunted Maze from other local haunts in Oregon?
We are the only really scary haunt on the southern OR Coast. Since we are a theatre company, we put a large amount of attention to the very fine details. Many guests go through our maze more than once, simply because they missed the cool props and want to see them again!
How long has Scare C.R.O.W Haunted Maze been in business? Can you tell us a bit more about Scare C.R.O.W Haunted Maze's history?
We started in 2014, and have gotten bigger and scarier every year. Last year, we got amazing feedback about our "Quarantine" zombie themed maze. This year, we have plans to impress guests to DEATH with our incredible details. We pride ourselves on being very creative (because we are theatre folks), and that is what sets us apart from other mazes.
What's your favorite experience since opening Scare C.R.O.W Haunted Maze?
We have a group that comes through every year, and this poor lady is so scared! Her friends drag her to the maze, and take pictures of her before and after. Her face speaks volumes. It puts a big sinister smile on our faces.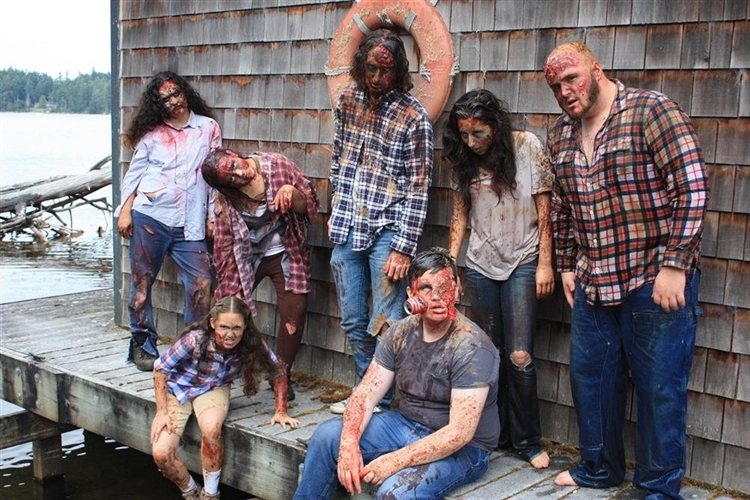 How long is a typical haunt experience at Scare C.R.O.W Haunted Maze from start to finish?
It only takes about 6-8 minutes to go through our maze. And while that seems like a short time, trust me....you'll wish you could escape faster. Our maze may not be long, but we make up for it in incredible details, scary props, believable actors (adults and youth) and awesome ambiance. It's not a huge space, but it's so "worth it."
On a scale from 1 to 10, how scary would you say Scare C.R.O.W Haunted Maze is? Why?
I'd say it's about an 8. We try to get scarier every year.
Does Scare C.R.O.W Haunted Maze's property have any real haunted history? Do you have a spooky encounter you'd like to share?
We have a resident ghost named "Maggie." She loves what we do, and only occasionally knocks things over, slams doors, and flickers lights. We let her stay as long as she plays nice.
What inspired you to open up a haunted attraction? What's your favorite part of the business?
I'm from S. California and I grew up attending Halloween Haunt at Knotts. It was my favorite thing to do every year, and I strive to have that same level of scare-factor in our maze. Plus, I just love to hear people scream and watch them run from a character that they were not expecting to see. Psychological terror is my favorite thing....EVER. "What the HECK was that?????"
How has new technology (i.e. animatronics, special props, etc) helped you to enhance Scare C.R.O.W Haunted Maze?
We are a theatre company, so we have some awesome props and effects!
Can Scare C.R.O.W Haunted Maze accommodate large groups? How many people can experience Scare C.R.O.W Haunted Maze together as a group?
We prefer to isolate you, and send you through in smaller groups. That way, you're more likely to get eaten.
Anything else you'd like to let us know about Scare C.R.O.W Haunted Maze?
All of the proceeds support our non-profit youth performing arts organization. So, come show you care by getting scared. We dare you to try and make it out alive.