Oregon Small Town Transforms into Real Life Halloweentown Each Year
Home » Blog » Oregon's Local Halloween Fun Guide, Halloween's Hottest Trends, Little Ghost & Ghouls Corner , Oregon Haunt News, Halloween Headlines
October 26, 2017 By Chelsea T.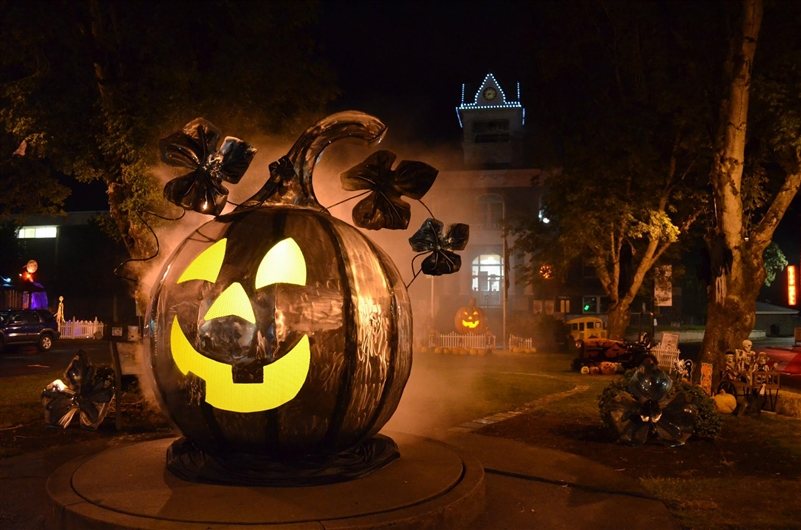 Photo by:
Spirit of Halloweentown via Facebook
Every year, a small town in Oregon comes together to celebrate the spirit of the Halloween Season. St. Helen's, Oregon was the setting of the 1998 film, Halloweentown, and the town honors the holiday by having a month-long celebration annually that includes a number of events and activities for those of all ages to enjoy.
It's safe to say that St. Helen's turns into the real life Halloweentown - for the month of October, anyway! And guess who has joined in on the festivities? Kimberly J. Brown, the actress who played Marnie in Disney's popular Halloween flick.
Buzz about the event, called "Spirit of Halloweentown," took place in 2015 after Brown announced her first return to the original filming location where she helped light the giant pumpkin among thousands of fans. Ever since, the celebration has been featured on a number of media platforms nationwide, including Entertainment Weekly, MTV, The Huffington Post, BuzzFeed, ABC News, Vogue and County Living Magazine.
Some of the events that take place through October include "Halloween Spirit Adventure," which takes place on Fridays and Saturdays, a Coin Challenge that begins with a ride on the "Spooks Shuttle," face painting, photo ops, and much, much more.
Whether it's the month of October or not, visiting the filming location of one of the most classic Disney Halloween flicks is pretty cool! And we love the fact that St. Helen's decides to celebrate it to this very day!
Click here for the full Spirit of Halloweentown Agenda!