The House of Shadows Hosts "The Darkness" Blackout Christmas Haunt
Home » Blog » Oregon's Local Halloween Fun Guide, Oregon Haunts: An In Depth Look, Oregon Haunt News, Halloween Headlines
December 6, 2017 By Cait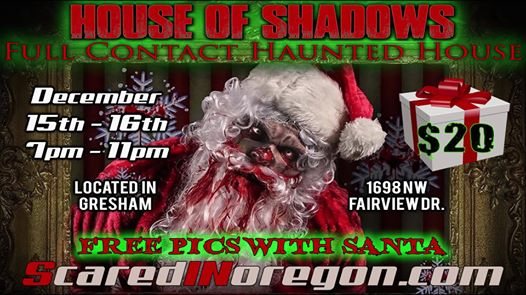 You Better Not Pout, You Better Not Cry...
Christmas is right around the corner, and to help you get into the holiday spirit, The House of Shadows is bringing back their holiday haunt for the 2017 Christmas Season! On Friday, December 15th, and Saturday, December 16th from 7 PM - 11 PM, join The House of Shadows for "The Darkness", a lights-out haunted event which is sure to be a scary-good time.
How does it work? You and one friend enter with one glow stick, and you need to work together to brave your way through the haunted house with only the light from your glow stick. Once you've braved your way through, you can snap some pics with scary Santa!
Tickets are $20 per person, and if you're looking for a scary-good way to get into the holiday spirit, then this is definitely one you don't want to miss out on!