Beaverton Mom Finds Razor Blade in Child's Candy Bar After Trick or Treating This Halloween
Home » Blog » Halloween's Hottest Trends, Little Ghost & Ghouls Corner , Oregon Haunt News, Halloween Headlines
November 2, 2017 By Cait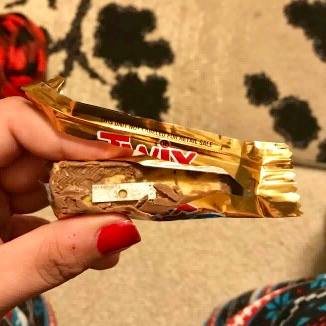 A local parent found a terrifying trick inside one of her child's Halloween treats this year - a razor blade.
Photo by:
Washington County Sheriff's Office, via Facebook.
According to the Washington County Sheriff's Office, a local Beaverton mom found something absolutely terrifying in her daughter's Halloween candy this year. Embedded in a fun sized Twix Bar was a razor blade, according to the media release that was issued by the Sheriff's office on November 1st, shortly after the concerned mother had reached out to the authorities.
The report stated that after bringing her three children trick or treating in her neighborhood, which authorities have said to be in the area of Northwest Cornelius Pass Road and Northwest Quatama Road in Beaverton, one of the children, a 13 year old girl, brought the Twix bar to her mother, showing her the razor blade embedded in it, which rightly caused her mother immense concern.
Authorities from the Washington County Sheriff's Office said in a statement that they believe that the blade is from a pencil sharpener, and it is unknown at this time if the packaging of the candy was already opened when the girl discovered the blade embedded inside of the chocolate bar. At this time, the Sheriff's Office has stated that there are no investigative leads, however, they are urging the public to reach out to them with any tips or information about possible candy-tampering.
The investigation is ongoing, and the Washington County Sheriff's Office urges anyone with any information to reach out to their non-emergency line at 503-629-0111.
In light of this incident, the Washington County Sheriff's Office also urges parents to remain vigilant, and to educate their children about properly inspecting Halloween candy before consuming it.