Amazing Halloween Costumes Celebs Pulled Off This Halloween
Home » Blog » Halloween's Hottest Trends, Little Ghost & Ghouls Corner , Halloween Headlines
November 2, 2017 By Cait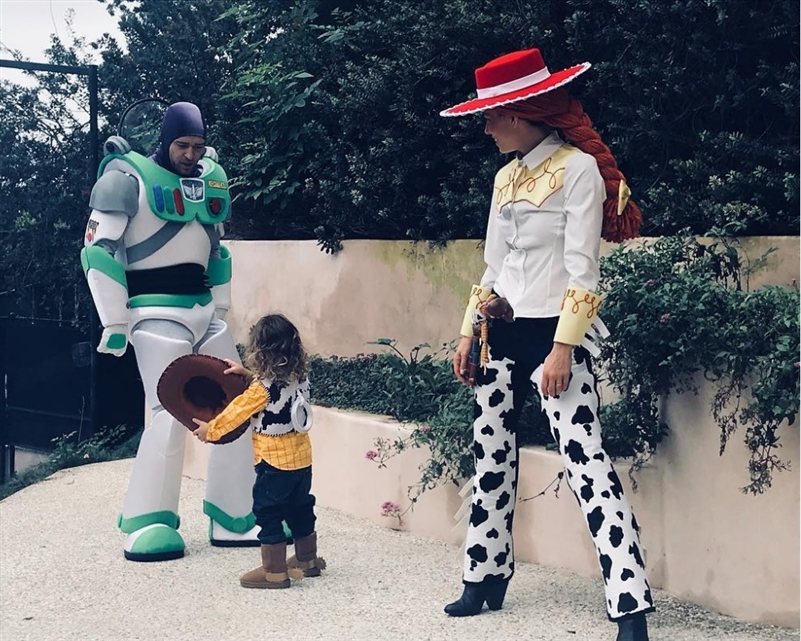 Dressing Up for Halloween is a Family Affair at the Timberlake-Biel House!
Photo by:
Jessica Biel, via Instagram
If you had no limits to what you could spend on your Halloween costume, what would you go as? The possibilities are seemingly endless, and in recent years, it's become somewhat of a post-Halloween tradition to check out the cool costumes pulled off by celebrities from all walks of life - actors, athletes, musicians,
Gwyneth Paltrow as er, "Herself"...Sorta - Gwyn pulled off an epically funny look this Halloween - she dressed as her character from the movie Se7ven, the 1995 psychological thriller which ended with Gwyn's head in a box. This simplicity of this look doesn't take away from the hilarity, and this look was definitely a Halloween win.
Kristen Bell as Elsa from Frozen - Kristen Bell went as Elsa from the smash hit movie Frozen (which she starred in as Elsa's sister, Anna) this year. What makes this remarkable or funny? Well, Kristen did not look pleased with the costume - she posted a pic of her as Elsa with the caption "When your daughter demands you BOTH be ELSA for Halloween...you GRIN AND FORKING BEAR IT." Judging by her facial expression, grinning and bearing it is a bit generous. The hilarious context for this costume is what makes it a total win.
Channing Tatum & Jenna Dewan Tatum as Jack & Sally - The duo went as Jack & Sally from the Halloween classic Nightmare Before Christmas, and this couples costume was definitely a win - the duo looked adorable!
Sarah Hyland & Wells Adams Pay Tribute to Stranger Things - This Halloween, Sarah Hyland dressed as one of the little boys from Stranger Things, accompanied by Wells Adams, dressed as Eleven herself (and towering over Hyland at that). The duo looked both adorable and hilarious.
Justin Timberlake, Jessica Biel, and Son Silas as Buzz Lightyear, Jessie, & Woody from Toy Story - Now this, this is how you do family costumes! Justin & Jessica both dressed up in amazing costumes to accompany their son Silas, dressed as Woody, on trick or treating on Halloween. Needless to say, the trio looked absolutely adoprable, and totally won the family costume game!
What Was Your Favorite Celebrity Halloween Costume This Year? Let Us Know in the Comments Below!